Something I notice in a lot of student work is what I tend to think is a misunderstanding of the principle of exaggeration. I feel that many think the idea of exaggeration is just making every movement bigger and over the top, especially when trying to do a cartoony style. I think a different way of looking at the idea of exaggeration is not necessarily making things bigger, but to exaggerate the contrast between elements. Quick timing vs slow timing. Big movements vs smaller movements. Light vs dark. Pinky vs Brain. Etc.
There's a few problems with making quick+bigger movements across an entire animation.
Firstly It doesn't let the audience breathe and take in what is happening, it affects the clarity of your storytelling. But also without the smaller/slower movements, the bigger/faster movements lose their impact. Emphasis and texture in the shot are lost.
I just came across this deleted scene from Cloudy WIth A Chance of Meatballs 2. The style of the show makes great use of exaggeration and think we can take some things from even just 3 shots in this sequence.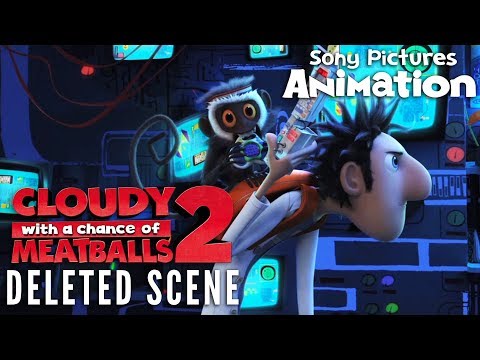 Firstly we see Flint racing down the street in a very exaggerated way, big crazy movements and very fast. He then swings around the parking meter and bursts in through the door. A key point though is that he spends longer at the parking meter than he needs to, about 18 frames. Just having that extra little bit of time to pause gives the audience to take in the scene, what's happening and also an idea of what's going to happen next. So while his run is exaggerated, his pause is also exaggerated.

We see Flint in a hold, a super quick move in 2 frames but then another hold before he makes the mark across the calendar. This isn't all just one big/quick movement that leaves the audience behind, there's a deliberate use of fast vs slow that gives the audience information they need and texture to the timing.

I love these jump cuts. Take note that his arms are flailing in big/quick movements. But watch his body, there's hardly any movement. That stillness gives us just enough to read what's happening in such a short cut. Our eye doesn't have to jump round the screen following his body in each shot, but we still get the emergency of the scene through the exaggerated arms and poses.